Cremation Options

Although cremation dates back to ancient times, it has only recently become a more common choice throughout the United States. People choose cremation for a variety of reasons. Some do so based on environmental considerations. Others have philosophical or religious reasons.
Many people believe that choosing cremation means limiting your options. Actually, there are a variety of options available with cremation. Most families hold services, which help the bereaved cope with the loss of a loved one. Many people find that opting for cremation gives them the opportunity to create and personalize the various service options for a more meaningful experience.
The greatest misunderstanding about cremation is the belief that with cremation, there is no need for services. However, a service or memorial ceremony is an important step in helping the bereaved overcome their grief, and gives family and friends the opportunity to honor a loved one.
Services or ceremonies can precede or follow the actual cremation. Prior to cremation, there may be a gathering, which can be either public or private, with an open or closed casket.
When the service follows the cremation, a receptacle or urn containing the cremated remains may take a place of prominence. Ceremonies can be simple, contemporary, religious or secular. Music, readings, stories and poetry can be added to personalize the event to both reflect on and celebrate the life that was lived.
COMPLETE FUNERAL SERVICE WITH CREMATION
If you decide to have your loved one cremated or if it was the request of the individual, viewing is still an option when choosing this service. Often, families choose to have visitation with or without a church service prior to being cremated. Depending on the circumstance, embalming may still be necessary when selecting this service.
MEMORIAL SERVICE
A Memorial Service is a service without a visitation and the remains of your loved one are not present at the time of the service. At this service, you may choose to have the urn present. This ceremony can be held at the funeral home or a church.
GRAVESIDE SERVICE
A graveside service is celebrated after your loved one is cremated. Family and friends gather at the grave site where a brief ceremony is held to honor the memory of the deceased.
DIRECT CREMATION
Direct Cremation is when cremation occurs shortly after death, without embalming. The cremated remains are placed in an urn or other container. No viewing or visitation is involved, however, families still have the option to hold a graveside or memorial service if the decide.
BURIAL OF CREMAINS
Burial is still an option if cremation is part of your funeral arrangements. Options are available. Ask your funeral arrangement specialist during conference.
---
The following are services we will assist you with:
The transfer of the deceased from the place of death to the funeral home
Professional care of the deceased, which may include, embalming, dressing, hairdressing, cosmetology, and casketing
An arrangement conference with the family to plan specific details for the funeral
Locating the deceased's doctor to sign a death certificate; then filing this certificate with State of death; obtaining the requested amount of certified death certificates for the family
Obtaining all necessary permits and authorizations, as required.
Preparing an obituary to be placed in any newspapers requested by the family
Contacting local cemeteries or crematory, as required
Providing a location for visitation and funeral ceremony
Placement of floral arrangements
Arranging for motor equipment, including limousines, as required
Arranging for Cash Advances for cemetery expenses, clergy honorariums, music, obituaries
Contacting Fraternal or Military organizations to take part in the ceremony
Arranging for a personalized remembrance package, consisting of a register book, memorial prayer cards, acknowledgments
Assist with Social Security and Veteran benefits
Assist in the selection of a casket and outer burial container
Filing of assignable life insurance claims
To begin the process of Advance Planning Click Here
If you have any questions about pre-planning, contact us at 401-762-1825, or E-Mail Us Here
---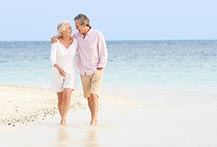 Pre-Planning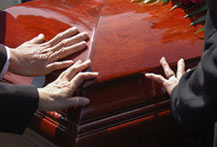 Burials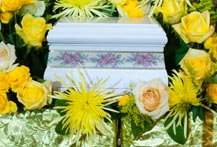 Cremations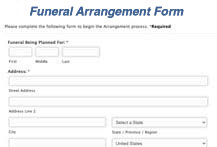 Arrange Now
---